Destaque para as canções originais e sons de cada episódio da reencarnação da série Sabrina para o mundo da Netflix – atualização com segunda temporada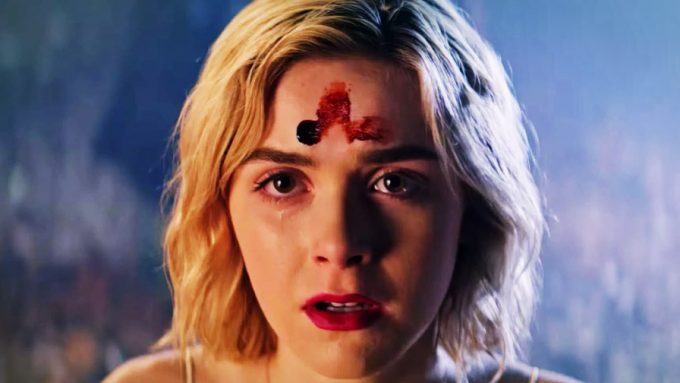 Em 2018 ainda nenhuma série havia me surpreendido pela qualidade e diversidade de sua trilha sonora, até a chegada da primeira temporada de Sabrina, produção da Netflix, que traz nossa famosa bruxa dos anos 60, lidando com as escolhas entre a própria mortalidade e a vida eterna.
O terror sobrenatural e o humor teen, ainda são a base de toda trama, desenvolvida por Roberto Aguirre-Sacasa, criador dos quadrinhos da Archie Horror, que desde 2014 vem ganhando cada vez mais adeptos, e que pilota a encarnação para as telas do mundo de Sabrina.
Mas original mesmo são os quadrinhos dos 60´s, que criaram um culto juvenil que chegou forte aos dias atuais.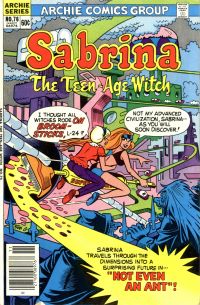 O personagem Sabrina Spellman, foi criado pelo escritor George Gladir e pelo artista Dan DeCarlo, aparecendo pela primeira vez em 1962 na revista "Archie's Madhouse #22", com a mesma trama da série atual, onde a garota é uma "meia bruxa" órfã, criada pelas tias em Greendale, fruto de uma mãe mortal e um pai que era um líder do universo da bruxaria.
Não podemos esquecer de "Salem Saberhagen", também bruxa e transformada em gata de estimação como punição por querer dominar o planeta.
Em cada episódio  vemos Sabrina tentando usar seus descontrolados poderes para "ajudar" os mortais à sua volta, gerando diversas situações terrivelmente divertidas.
A série aproveitou bem a época de Halloween, estreando em 26/Out//2018, e com ótima performance do elenco, onde se destacam Kiernan Shipka da série Madman como Sabrina, Ross Lynch como Harvey Kinkle e a australiana Miranda Otto, conhecida do público por "O Senhor dos Anéis".   
O sucesso foi tão grande, que um episódio "extra" de Natal rolou no dia 14 de dezembro, com os frequentadores da Igreja da Noite celebrando juntos a noite do Solstício de Inverno em clima 100% satanista – ver playlist atualizada com o episódio extra !!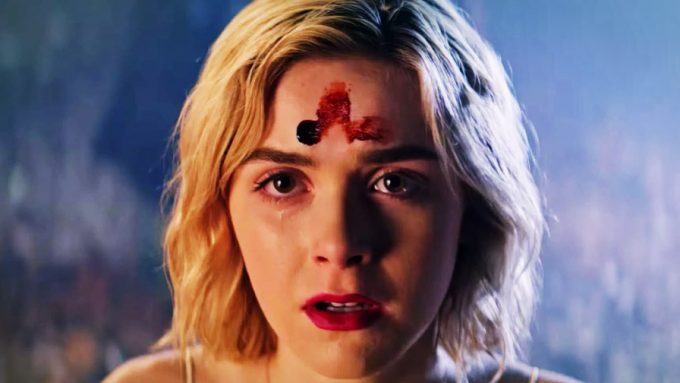 A trilha sonora original foi composta pelo celebrado Adam Taylor (The Handmaid's Tale)  que em estilo minimalista, conseguiu imprimir um traço retrô em diversas cenas, ajudando também em criar o clima certo para os momentos de magia e terror.
Fiquem com a lista e playlist com todas as canções por episódio da série
Temporada 01
Trailer/Teaser – 

Happy Birthday, Sweet Sixteen –

Neil Sedaka

e Blood in the Cut –

K. Flay



Capítulo um: É tempo de Halloween – 

Bad Moon Rising –

Creedence Clearwater Revival

, Magic Eyes –

Billy Fury

, Be My Baby –

The Ronettes

, I Put A Spell On You –

Sylvia Gordon

, Atomic –

Blondie

, Hurdy Gurdy Man –

Donovan

e Blue Motorbike –

Moto Boy

Capítulo dois: Batismo das trevas – Devil Woman – Cliff Richard, Terrible Thing – AG, Strange Magic – Electric Light Orchestra, Full Moon Tonight – SILVASTONE, Monster Mash – Bobby "Boris" Pickett & The Crypt e Sixteen Candles – Stray Cats
Capítulo três: O julgamento de Sabrina Spellman – Wild Woman – Sleep Machine, Blood in the Cut – K. Flay, New Kind of Kick – The Cramps, Dead End – Kaviar Special, Macbeth: "Patria Oppressa!" – Coro Dell'Accademia Nazionale
Capítulo quatro: Academia de bruxas – Casting My Spell – The Pirates, Carnival of Souls – Gene Moore, Boo! – Bob Kelly & The Pikes, Black Magic Woman – VCTRY, Midnight Jazz – Nicolas Folmer e Witchcraft – Marvin Gaye
Capítulo cinco: Sonhos de bruxa – Dream a Little Dream of Me – Ozzie Nelson & His Orchestra, Dream a Little Dream of Me – Yiruma, Dream a Little Dream – Pink Martini & The Von Trapps, Wedding March – Richard Wagner e Dream a Little Dream of Me – Doris Day
Capítulo seis: Exorcismo em Greendale – Sold – Liily, Give Me A Chance – Selectracks,  Yes, I'm A Witch – Yoko Ono & The Brother Brothers e If I Had a Heart – Fever Ray
Capítulo sete: O ritual dos rituais – Venus in Furs (som do Velvet Underground por Solo Sounds) e Criminal – Fiona Apple
Capítulo oito: O enterro (Sem canções)
Capítulo nove: De volta ao mundo dos vivos – The Girl With The Raven Hair – Jody Reynolds e Do-Re-Mi – Cast
Capítulo dez: A hora das bruxas – Midnight Serenade – David Lindup, Let Me Live/Let Me Die – Des Rocs e A Little Wicked – Valerie Broussard
Capítulo onze: Um conto de inverno – Sleigh Ride – Ella Fitzgerald, (There's No Place Like) Home for the Holidays – Perry Como, Jingle Bells – Sammy Burdson & John Charles Fiddy, Hark! The Herald Angels Sing –
Geoffrey Gascoyne – Do You Hear What I Hear? – Tradicional, A Holly Jolly Christmas – Burl Ives, Magic Is The Moonlight – Rosemary Clooney e God Rest Ye Merry Gentlemen – Tradicional.
Temporada 02
Na segunda temporada nossa personagem mais freak do mundo do streaming está nas encruzilhadas da vida, sempre se mostrando de frente para os desafios de crescer e perder a inocência, tanto de sua persona bruxa, quanto da adolescente humana e simples mortal.
Capítulo doze: Epifania – Girl U want com DEVO, Love to Love You Baby por Donna Summer, Different Angles com Starcrawler, Pretty Head por Transviolet e Bagatelle in A minor WoO 59 "Fur Elise" com Eva Suvoka
Capítulo treze: A paixão de Sabrina Spellman – The Devil's Gotten Into My Baby – Devotions, Black Night – Cheryl Thompson, Gently Break It – Beck Pete, Heaven – Charly Bliss e novamente Pretty Head com o Transviolet.
Capítulo quatorze: Lupercália –

O episódio com mais canções da temporada, começando por Chains of Love –

Erasure

, Blurry Now –

Kingsbury

, Tell Him –

The Exciters

, The Phoenix –

Lindsey Stirling

, Its Your Voodoo Working –

Charles Sheffield

, Hungry Like the Wolf –

Duran Duran

, Maneater –

Daryl Hall & John Oates

, Smile At the Devil –

Jayson Belt

e Devil in Your Soul –

Wade Flemons

.

Capítulo quinze: As profecias do Dr. Cerberus – Storm In My Heart por Judy Proctor, o hit punk Submission com os Sex Pistols e Rainin' por Bobby Darin
Capítulo dezesseis: Blackwood –

I Want Your Love Tonight com o grupo canadense

The Hearts

Capítulo dezessete: Missionários  – sem canções.
Capítulo dezoito: Os milagres de Sabrina Spellman –

Girls Just Want to Have Fun com a deusa pop

Cyndi Lauper

Capítulo dezenove: Mandrágora –

The End of the World com

Skeeter Davis

Capítulo vinte: Valsa com o diabo– Masquerade (feat. Kiernan Shipka, Ross Lynch, Lucy Davis, Jaz Sinclair, Tati Gabrielle, Gavin Leatherwood & Miranda Otto) com o elenco de "Chilling Adventures of Sabrina" e  The End com os The Doors