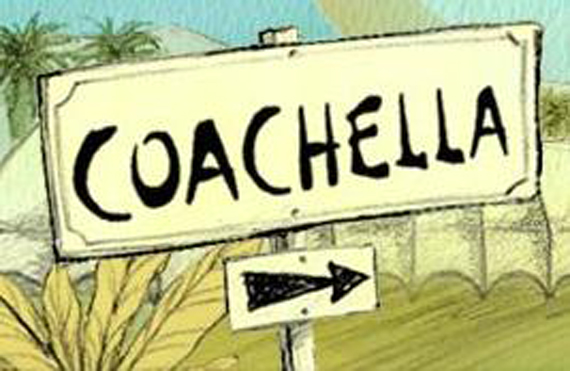 O Coachella já foi Indie e alternativo, mas agora a coisa ficou tão Gigante, que o festival apesar de manter o espírito original virou sem dúvida alguma MAINSTREAM e passa a ter vários pesos pesados e ídolos POP em seu elenco 2010.
Confiram as datas e artistas já confirmados:
Sexta – 16 de Abril de 2010
Alana Grace , As Tall As Lions, Baroness, Benny Benassi, Calle 13, Céu, deadmau5 , Deer Tick, DJ Lance Rock, Echo & the Bunnymen, Erol Alkan, Fever Ray , Grace Jones, Grizzly Bear, Hockey, Iglu & Hartly, Jay-Z, Jets Overhead, Kate Miller-Heidke, La Roux, LCD Soundsystem, Little Dragon, Lucero , Pablo Hassan , Passion Pit ,  P.O.S. , Proxy, Public Image Limited (PIL), Ra Ra Riot , She & Him , Sleigh Bells ,  The Avett Brothers , The Cribs , The Dillinger Escape Plan, The Specials, The Whitest Boy Alive , Them Crooked Vultures , Vampire Weekend , Wale , Wolfgang Gartner , Yeasayer.
Destaque para os latinos do Calle 13, para cantora e compositora brasileira Céu, para o clima dos anos 80 de Echo e PIL, mas o destaque maior vai para o pop de JAY Z e para o rock da SUPERBANDA Them Crooked Vultures.
Sábado – 17 de Abril de 2010
2 many DJ's, Aterciopelados, Band of Skulls, Bassnectar, Beach House, Camera Obscura, Coheed and Cambria, Corinne Bailey Rae, Craze, David Guetta, DEVO, Dirty Projectors, Dirty South, Edward Sharpe & The Magnetic Zeros, Faith No More, Flying Lotus, Frank Turner, Frightened Rabbit, GIRLS, Gossip, Hot Chip, John Waters, Kaskade, Klever, Les Claypool, Major Lazer, Mew, MGMT, Muse, Old Crow Medicine Show, Porcupine Tree, Portugal. The Man, Pretty Lights, RX Bandits, Shooter Jennings, Sia, Steel Train, The Almighty Defenders, The Dead Weather, The Raveonettes, The Temper Trap, The xx, Tiësto, Tokyo Police Club, White Rabbits, Z-Trip, Zoé
Já no Sábado a coisa pega de vez, o destaque latino fica por conta dos colombianos do Aterciopelados, já o lado anos 80 fica para os veteranos new wave do DEVO. Mas imperdível mesmo serão MGMT, Raveonettes, Dead Weather, Faith no More e Portugal The Man…. fica a dica.
Domingo – 18 de Abril de 2010
B.o.B., Babasónicos, Charlotte Gainsbourg, Club 75, De La Soul, Deerhunter, Delphic, Florence & The Machine, Gary Numan, Gil Scott-Heron, Gorillaz, Hadouken!, Infected Mushroom, Julian Casablancas, Kevin Devine, King Khan & the Shrines, Little Boots, Local Natives, Matt & Kim, Mayer Hawthorne, Miike Snow, MUTEMATH, One eskimO, Orbital, Owen Pallett, PAPARAZZI, Pavement, Phoenix, Plastikman, Rusko, Sly & The Family Stone, Spoon, Sunny Day Real Estate, Talvin Singh, The Big Pink, The Glitch Mob, The Middle East, The Soft Pack, Thom Yorke, Yann Tiersen, Yo La Tengo.
O dia final do festival será uma festa, para os mais saudosistas tem um pouco de tudo, começando pelo funk soul de Sly and The Family Stone, pelo som engajado de Gil Scott Heron, e pelo apelo dos anos 90 do Pavement. Como destaques recomendo os argentinos Babasonicos e seu moderno pop platino, além dos multimídias Gorillaz e os trabalhos solo de Thom Yorke (Radiohead) e Julian Casablancas (Strokes).
Os ingressos podem ser comprados no site do evento. O pacote para as 3 noites fica em US$ 269,00 e dá direito somente aos shows, para acampar no local, consulte o site do Camping Coachella 2010.
Vendas à partir do dia 22/JAN/2010