Quem vai chegar para o tour na América Latina em super evidência é o eterno Morrissey, que além da boa música de sempre, continua na mídia e dessa vez por diversos motivos, num coquetel que envolve literatura, política e sua conturbada relação com o universo britânico.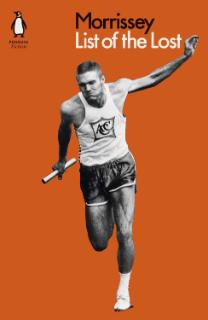 O maior Buzz é mesmo o lançamento de seu livro List of the Lost, seu primeiro romance lançado na onda da bem sucedida e recebida autobiografia, mas dessa vez a crítica está sendo impiedosa com o livro, lamentando a transição do bocarra para o universo das letras, classificando o lançamento de "fraco e confuso".
Alguns como a NewStatesman disseram que provavelmente ninguém teve coragem de impedir o lançamento dando uma opinião sincera. Mas apesar de ácidas, todos reconheceram que é somente o primeiro romance de Morrissey e que normalmente um novelista fica bom mesmo à partir do terceiro livro.
Mozz também declarou ao site True-To-You que devido à falta de interesse das gravadoras, os recentes shows em Londres podem ter sido os últimos do compositor e cantor na Inglaterra, verdade ou não, reforça sua eterna peleja com a sociedade local. Agravada ainda mais, com a indignação pelo comportamento do primeiro ministro David Cameron, que causou fortes declarações de Morrissey, ao ter revelado seus rituais de iniciação em sociedade secreta, que incluiu relações íntimas com partes de animais mortos, o que para um ativista dos direitos dos animais é bem compreensível. O famoso #PigGate

Afinal em 'Meat is Murder' dos The Smiths, o cantor nos diz: "Nobody can possibly be so hungry that they need to take a life in order to feel satisfied – they don't after all…so why take the life of an animal? Both are conscious beings with the same determination to survive. It is habit, and laziness and nothing else."

E como prometido… Setlist Morrissey na América Latina 2015… e para tanto, selecionamos 6 shows recentes para que lado a lado, os fãs possam comparar cada show e torcer pela combinação mais matadora para conferir por aqui !!

[tabs tab1="28/Set em Bruxelas na Bélgica" tab2="30/Set em Neu Isenburg na Alemanha" tab3="01/Out em Colônia na Alemanha" tab4="07/Nov em Quito, Teatro Nacional – Equador" tab5="11/Nov em Santiago do Chile na Movistar Arena" tab6="14/Nov no Espacio Broadway em Santiago, Chile "] [tab id=1]- Suedehead
– Alma Matters
– Speedway
– Ganglord
– Staircase at the University
– World Peace Is None of Your Business
– Now My Heart Is Full
– I'm Throwing My Arms Around Paris
– Oboe Concerto
– Mama Lay Softly on the Riverbed
– I Will See You in Far-Off Places
– The Bullfighter Dies
– Kiss Me a Lot
– I'm Not a Man
– Will Never Marry
– Istanbul
– My Dearest Love
– What She Said (The Smiths)
– Meat Is Murder (The Smiths)
Bis:
– Everyday Is Like Sunday [/tab] [tab id=2]- Suedehead
– Speedway
– Ganglord
– Alma Matters
– Kiss Me a Lot
– Reader Meet Author
– Oboe Concerto
– One of Our Own
– People Are the Same Everywhere
– The Bullfighter Dies
– World Peace Is None of Your Business
– I'm Throwing My Arms Around Paris
– Everyday Is Like Sunday
– Staircase at the University
– Istanbul
– I Will See You in Far-Off Places
– Meat Is Murder (The Smiths)
– Boxers
– What She Said (The Smiths)
Bis
– The Queen Is Dead (The Smiths)[/tab] [tab id=3]- Suedehead
– Speedway
– Ganglord
– Alma Matters
– You Have Killed Me
– Kiss Me a Lot
– Reader Meet Author
– Oboe Concerto
– The World Is Full of Crashing Bores
– World Peace Is None of Your Business
– I'm Throwing My Arms Around Paris
– Everyday Is Like Sunday
– The Bullfighter Dies
– Staircase at the University
– Yes, I Am Blind
– I Will See You in Far-Off Places
– Meat Is Murder (The Smiths)
– Boxers
– What She Said (The Smiths)
Bis
– The Queen Is Dead (The Smiths)[/tab] [tab id=4]- Suedehead
– Alma Matters
– Speedway
– Ganglord
– Kiss Me a Lot
– World Peace Is None of Your Business
– Oboe Concerto
– How Soon Is Now? (The Smiths)
– You Have Killed Me
– First of the Gang to Die
– Meat Is Murder (The Smiths)
– Everyday Is Like Sunday
– Istanbul
– I'm Throwing My Arms Around Paris
– Earth Is the Loneliest Planet
– The Bullfighter Dies
– What She Said (The Smiths)
BIS
– The Queen Is Dead (The Smiths)[/tab] [tab id=5]- Suedehead
– Alma Matters
– This Charming Man (The Smiths)
– Speedway
– Ganglord
– World Peace Is None of Your Business
– Kiss Me a Lot
– I'm Throwing My Arms Around Paris
– Earth Is the Loneliest Planet
– You'll Be Gone (Elvis Presley cover)
– How Soon Is Now? (The Smiths)
– First of the Gang to Die
– Oboe Concerto
– The Bullfighter Dies
– Meat Is Murder (The Smiths)
– Will Never Marry
– I Will See You in Far-Off Places
– Jack the Ripper
– Everyday Is Like Sunday
Bis
– What She Said (The Smiths)[/tab] [tab id=6]- Suedehead
– This Charming Man (The Smiths)
– First of the Gang to Die
– Alma Matters
– Speedway
– Ganglord
– Istanbul
– World Peace Is None of Your Business
– Kiss Me a Lot
– I Will See You in Far-Off Places
– Earth Is the Loneliest Planet
– You'll Be Gone (Elvis Presley cover)
– How Soon Is Now? (The Smiths)
– You Have Killed Me
– Staircase at the University
– Meat Is Murder (The Smiths)
– Everyday Is Like Sunday
– The Bullfighter Dies
– I'm Throwing My Arms Around Paris
– The Queen Is Dead (The Smiths)[/tab] [/tabs]

Selecionamos do show de Colônia na Alemanha vídeo fã de Alma Matter para aquecer a alma dos adeptos

Confiram também as datas do Tour Sulamericano 2015 no post sobre os shows em cada país